When a small inexpensive 3D printer aboard an aircraft carrier in the Pacific Ocean was used to make a replacement bumper for an F-35B fighter jet's landing gear door in 2018, it saved the Marine Corps from having to order an entire new $60,000 door. It also saved time. It took only days instead of weeks to replace the worn-out part and get the stealth plane back in the air.
Today, additive manufacturing (AM) has widespread tactical and operational use throughout the military. And other advanced manufacturing technologies are recognized as critical to operations of all U.S. military branches.
Carnegie Mellon University and its partner Catalyst Connection are working together to ensure that the local region plays a major role in the military's adoption of advance manufacturing technologies and expansion of the defense supply chain.
Western PA a hub for defense research
Western Pennsylvania is a top region for defense spending and Carnegie Mellon's Manufacturing Futures Institute (MFI) and Next Manufacturing Center are leading the development of advanced manufacturing technologies, including additive manufacturing, robotics, digital twins, and artificial intelligence.
The Department of Defense (DOD) Office of Local Defense Community Cooperation recently designated Southwest Pennsylvania and Northern West Virginia as a Defense Manufacturing Community. Carnegie Mellon and Catalyst Connection, who successfully sought the designation, received funding to create the Aim Higher Consortium and will work to bring together industry, academia, and government partners who can accelerate defense manufacturing research and innovation efforts, foster improvements and growth for defense supply chains, and address industry needs for workforce development and training.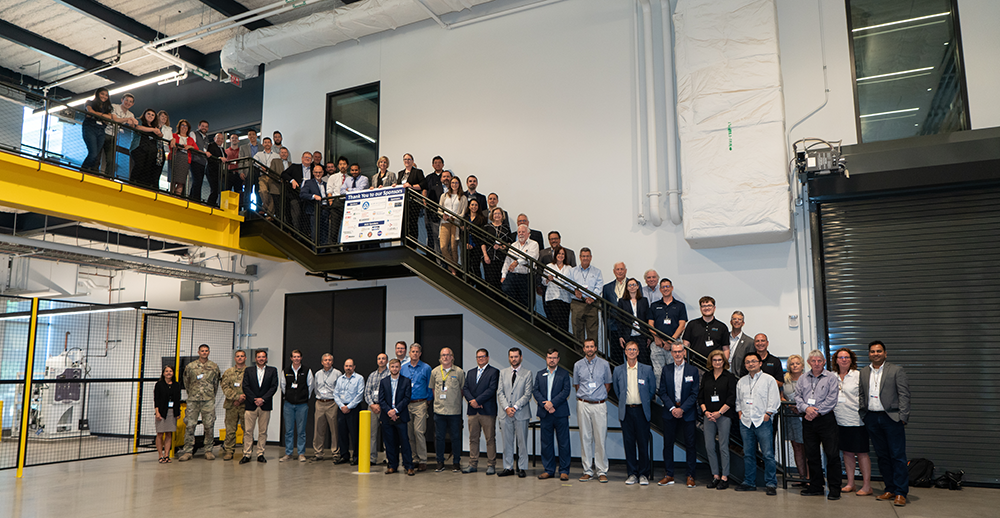 "When manufacturers succeed, everyone in our community has the opportunity to succeed," said CEO and President of Catalyst Connection Petra Mitchell. Catalyst Connection, which leads the Aim Higher Consortium, is a private not-for-profit organization that provides consulting and training services to small manufacturers in southwestern Pennsylvania. Through the new Aim Higher Consortium, Catalyst will provide technical assistance, prototyping services, training, and administration of a mini-grant program for regional manufacturers.
Aim Higher Summit launched
In June, Catalyst Connection, Carnegie Mellon, and the University of Pittsburgh hosted the first Aim Higher Defense Manufacturing Summit. Liza Allison, who is the program manager for the Next Manufacturing Center, one of the world's leading research centers for additive manufacturing, organized the two-day summit that was attended by approximately 100 representatives for industry, government, and academia.
The summit began on June 21 with an evening reception and tours of Neighborhood 91, the innovation campus at the Pittsburgh International Airport–a new 11,000-square-foot facility focused on additive manufacturing production.
Learn more about the Aim Higher Consortium and find information about manufacturing research and education at Carnegie Mellon University.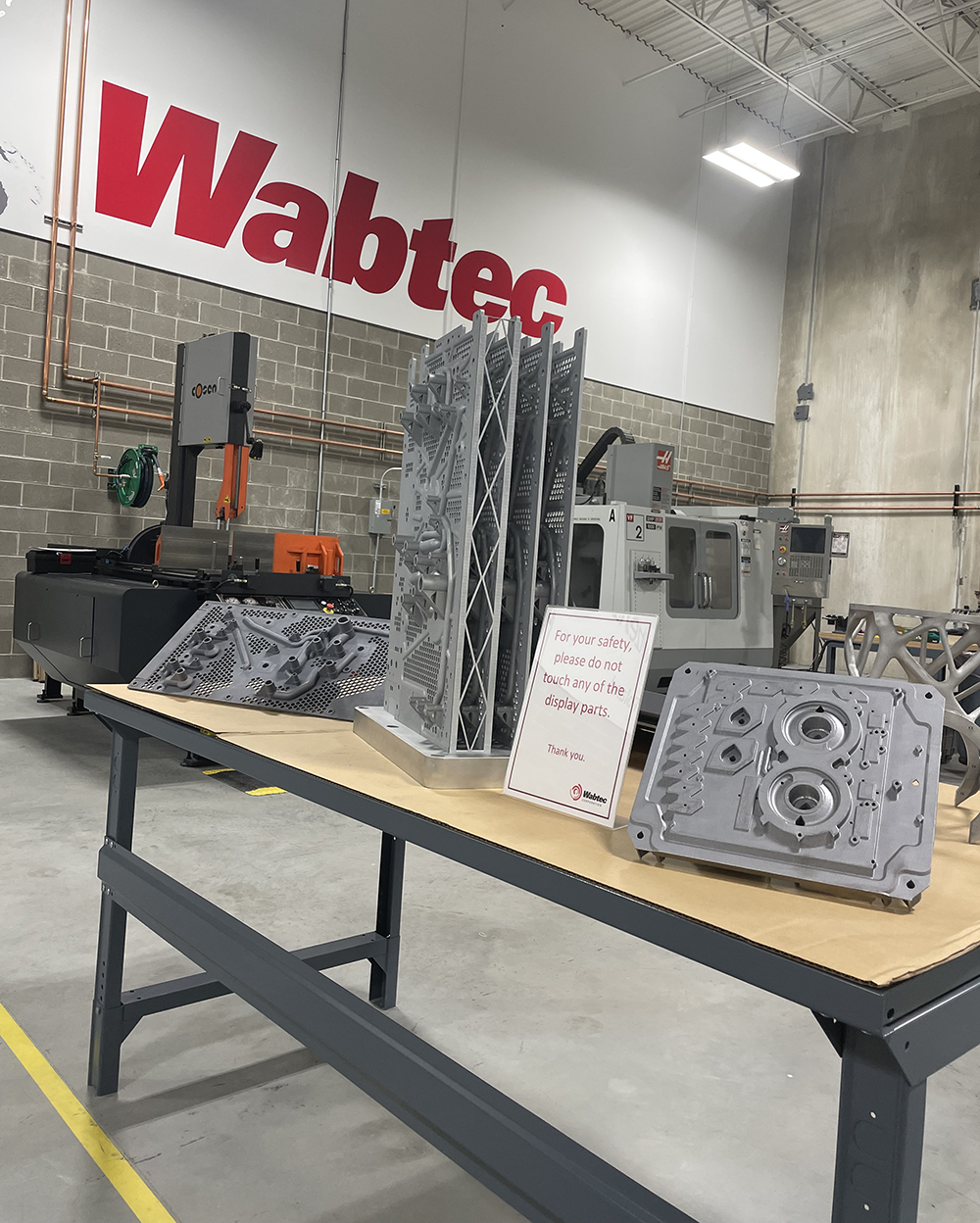 Wabtec Corporation became the first tenant in 2021 and will produce state-of-the-art, large-scale, lightweight parts for rail industry customers, using additive manufacturing technology that they say can reduce lead times by up to 80 percent. A second tenant, Cumberland Additive, will grow their core competencies in metal 3D printing and develop a relationship with anchor tenant Wabtec to support their CNC machining needs for complex AM parts. University of Pittsburgh Chancellor Patrick Gallagher welcomed attendees and the new tenants to the "neighborhood," that he called a leading innovation center.
A full day of programming followed on June 22 at Mill 19, the discovery workspace where Carnegie Mellon University faculty conduct advanced manufacturing research in additive manufacturing, robotics, digital twins, and artificial intelligence. Dean Bill Sanders noted CMU's commitment to fostering growth in defense manufacturing research and explained that the culture of Advanced Collaboration® at the College of Engineering ensures that leading experts in additive manufacturing, robotics, and artificial intelligence will work together to advance these critical manufacturing technologies.
Sandra DeVincent Wolf, MFI's executive director, added, "At Carnegie Mellon, we educate innovators and leaders, and our groundbreaking manufacturing research is critical to economic growth and national security."
Representatives from the U.S. Army, Navy, Airforce, and NASA presented at the summit. They discussed the importance of academic partners like CMU and Pitt who are working to engineer better materials, qualify and certify 3D printed parts, and expand the use of advanced manufacturing technologies on ships and battlefields. They also expressed the role local small- and medium-sized manufacturers play as partners in bolstering U.S. defense and they encouraged industry attendees to work with academia and government to establish and nurture such partnerships.
"AM in the military is real," said Howard Marotto, a former U.S. Marine colonel and a presenter at the summit. "It's effective, disruptive, and revolutionary. Weapon systems, in particular, have unique supply chain challenges that 3D printing can help to overcome."
In addition to presenters from NASA and the U.S. Armed Forces, Suzy Teele, the vice president of strategic initiatives and outreach for the Advanced Robotics for Manufacturing Institute (ARM), addressed the audience. ARM, which was established in 2017 by Carnegie Mellon University, is also headquartered at Mill 19 in Hazelwood. ARM is one of 16 Manufacturing USA® Institutes and one of nine DoD Manufacturing Innovation Institutes.
Another DoD Manufacturing Innovation Institute, America Makes, works to accelerate the adoption of additive manufacturing. John Wilczynski, executive director of America Makes, believes the Aim Higher Consortium will help distribute the future of advanced manufacturing by bringing these important partners together. "I was recently told by the Chief Futurist at Deloitte that the future is now, but it's not well-distributed."
Check out the original article here.